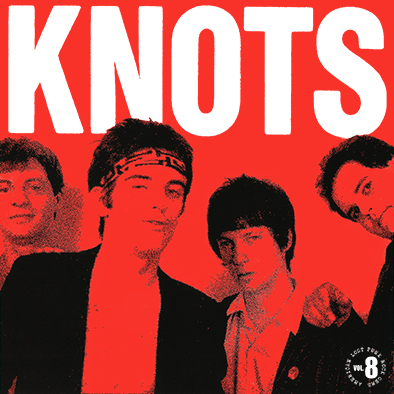 Back in the 1970s, Max's Kansas City introduced many fine bands. Some of the best never got famous. Fuse, aka Knots, was one of the finest.
Let's start at the beginning: Joey Pinter was looking to put a band together in the mid '70s when he met 'the loudest drummer I've ever heard in my life': Niki Fuse! They recruited vocalist, Tommy Bell and began rehearsing with a parade of now forgotten bass players and began gigging at various dives in and around Manhattan. Soon, they scored gigs at CBGB and Max's and began to attract a following that included Eric Dufaure, a former Island Records executive who asked them to record for his new label, Ideal Records. Unfortunately, band infighting had reduced Knots to Joey and Tommy, so they entered Neal Steingart's Fly Studios in Brooklyn with replacement drummer, Jerry Ryan, and Pinter doing double duty on guitar and bass guitar! There, they recorded a few songs: the two that made it to the single, plus "Rock 'n' Roll," "New York," "Blinded by the Darkness,and "Glad to be Alive ". They also covered the Stones' "Live With Me." When the finished record hit the streets in 1980, Knots became a hot commodity. I put the single on the Max's jukebox, and Bleeker Bob's sold out multiple copies. On Manhattan's downtown club circuit, Knots shared bills with now-legendary outfits like the Heartbreakers, Tuff Darts, Planets, The Fast, The Cramps and VON LMO, as well as headlining their own shows at Max's. With Nick Fuse back in the drum seat and Big Tony Corio on bass guitar, The Knots were on their way to fame and fortune! Knots also toured the nation with Johnny Thunders, but then, in '81, Max's Kansas City died, CBGB went New Wave and Johnny took off for Europe. Knots broke up. Joey and Tony joined The Waldos, Fuse went on to play in a number of local groups, and Tommy disappeared. However, the Knots recordings have had a life of their own. They were covered by underground bands all over the world, used in a film soundtrack, and included on punk compilations (including my recent "Max's Kansas City 1976 and beyond" re-issue on Jungle Records) and so the legend has been kept alive. Through the years, only three of their recordings survived: "Action", "Heartbreaker", and "Glad to be Alive", the latter released here for the first time! - Peter Crowley
400 copies only, first 100 copies shocking pink vinyl!