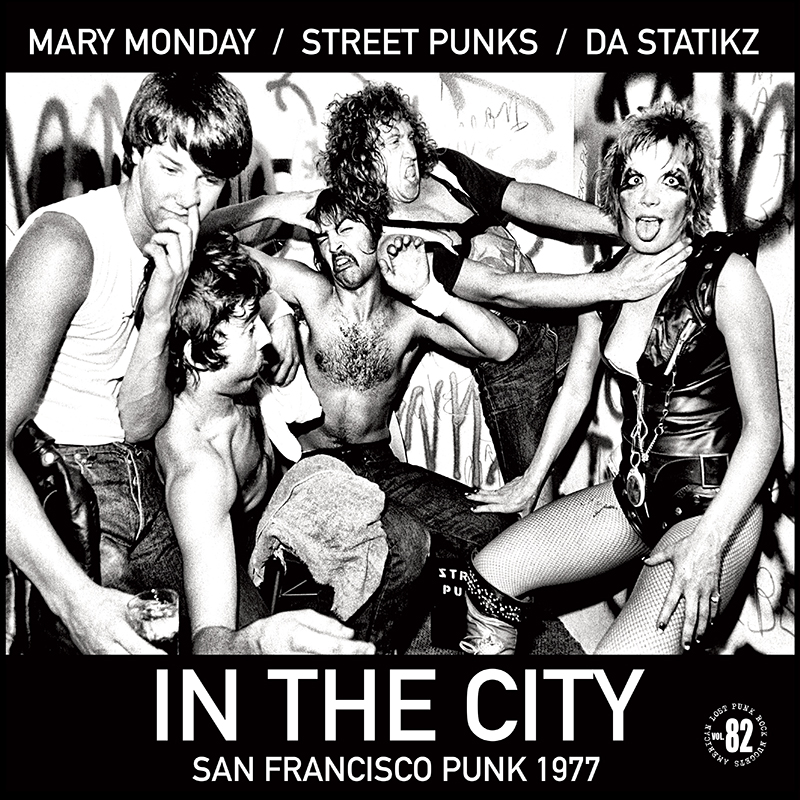 This anthology contains the original version of "Popgun" from Mary and the Street Punks first recordings. It was called "Out Of The Alley" on red vinyl. That was in June of 1977. The earliest female punk rocker to record in San Francisco!
In August Mary and Her Bitches recorded the 7" (revised version) of '"PopGun" plus Oh Rickie you took my razor blaaade', one of the greatest west coast punk singles of the first wave. Fans of the 'Killed By Death' compilation series will no doubt be familiar with "Popgun" which features some of the greatest unhinged punk lead guitar of the era, complete with that airtight rhythm section, it's a shot of pure, snot-caked crotch punch that you won't be able to shake from your head for days. Former stripper Mary Monday had a life shrouded in mystery, and conflicting reports in the historic documentation as to the band and Mary's origins are still baffling punkologists to this day, including her mysterious death a few years after this single's release. As legend goes, she arrived in San Francisco from Vancouver in 1976 with green hair and put together a band that played around the Filipino cabaret scene at the Mabuhay Gardens in 1976. And in August of '76 when The Ramones made their first West Coast appearances, the opening band for their big San Francisco debut show upstairs at the Savoy Tivoli was Mary Monday & the Bitches. Later on, Mary met up with the Street Punks, with whom the tracks on this single were penned by. The Street Punks would play shows as a separate unit (and eventually part ways), but with the blinding punk guitar screech acing up and down both sides of this classic single, this is where the planets aligned and such an epic formative sound was created, aged even better with time. The album contains their studio material and Don Lamb's Da Statiks.
Album ltd. To 300 copies only.